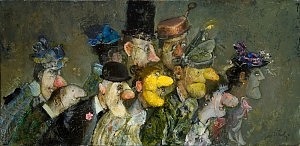 Andrea Vitali's stories that go against the canons that made him famous and the works of Maestro Giancarlo Vitali are the protagonists of the exhibition dedicated to the iVitali Series, which has given birth to twelve titles published by Cinquesensi during the four years of spontaneous and fervent collaboration between the writer and the painter. These are the books that accompany the visitor through the exhibition that culminates with "an exhibition within the exhibition" where the paintings and written works can be appreciated, dedicated to the theme of the twelfth in the series previewed here: Il Custode.
The exhibition, commissioned by the Province of Lecco and the Municipality of Varenna, has a prologue in Villa Monastero that then unfolds in an extraordinary weaving of images and words in the Sala Rosa and Marco De Marchi.
Giancarlo Vitali the painter was born in 1929 in Bellano on the eastern shore of Lake Como, where he still lives with his wife Germana. He is the father of Velasco, Sara and Paola.
Andrea Vitali the writer and physician, was born in 1956 in Bellano, on the eastern shore of Lake Como, where he still lives with his wife Manuela and his son Domenico.
ARTISTS' BOOKS
The iVitali Series is the only ongoing project in Italy that promotes the continuous cooperation between two authors that, while following their own independent development in writing and painting, decided to pit themselves against the boundaries of a paper book. All this to give a sign of renewed love for a medium, in fact the medium that has enabled humankind to spread its ideas and dreams. A project that was created and developed under the banner of "elective affinities", which is having success.
So, on the one hand, Giancarlo Vitali makes his archive of drawings available, while Andrea Vitali experiments with short story writing, discovering a type of creative exercise forged by an absolute freedom of inspiration.
The books are present in many museum libraries such as the Metropolitan Museum of Art, the Art Institute of Chicago, the National Gallery of Canada, and the Getty Museum.