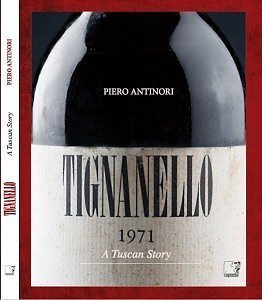 The prologue of Piero Antinori in Tignanello
I remember the lengthy discussions about it with my father, with our collaborators and friends, meeting after meeting, at Palazzo Antinori in the late 1960s. We had a wine that, in hopes and intentions, was going to change the rules and begin a new era for the company, my family, and Tuscany. And, it was all going to be labelled with this far from evocative name, completely unfa- miliar to those who were not from the Chianti Classico area and did not know vineyards and terroir inside out. A name that was poles apart from every marketing rule. We hoped, thought, and knew that we had an outstanding wine in our new wood barriques, which was however going to be launched on the market with a name that was virtually unpronounceable to foreigners. Nevertheless, I was quite convinced by the choice of that name. As was Luigi Veronelli, the greatest wine journalist of his time and first promoter and defender of my wine. «No bombastic names, pretentious medieval words, nor strange neologisms», he would reassure us, «For these bottles, the most obvious name is the best one». I recall that we were at a dinner at Castello della Sala, the company's Umbrian base, at the vanguard of one of the first meetings of the newly formed Italian Sommelier Association (where Veronelli was, of course, its soul). «The best thing is to tie this wine directly to its vineyard. This will be its "certified origin"».
Because «good wine begins in the Vineyard», as was often repeated by the enologist Giacomo Tachis. After having practically reconstructed our wineries, he had been the first to study and work there to achieve that result. Because «all our efforts were focused on finding the purest soul of this grape and of this area», summarizes the Antinori company's current enologist, Renzo Cotarella. Over the past decades of its history, he has known how to refine, perfect, and tone down this same red Tuscan wine. I say that great wine such as this is the result of a compelling idea applied to a terroir.
Terroir – a nice French word that indicates the "context" in which a given wine grows, in a broad sense, its "habitat": geological climatic, orographic, as well as – I believe, increasingly – its land- scape, history, and culture. Sentiment.
So, we have grape of the highest quality, an extensive selection, and the soil where it matures: it is impossible to say which of these two elements is decisive in the end. Great wine is the sum of a grapevine and an idea.
I sensed it then, and I firmly believe it today. This is why I enjoy talking about it, my first successful label, still our most loved, celebrated, and imitated bottle. Now, Renzo Cotarella is the managing director of the company, at the helm of several vineyards and wineries around the world, together with myself and my daughters, Albiera, Allegra and Alessia, who will carry on the family tradition.
Now, as sit in my new, modern winery hidden beneath a hill in the Chianti Classico area. Completely enclosed in glass, to look our vineyards in the eye, and show everyone how great wine is made. Today Marchesi Antinori cultivates grapevines and produces wines in areas with the greatest calling in Tuscany, in the Piedmontese Langhe, in the Lombard Franciacorta, in every historical Italian territory, and in those we wanted to rediscover, such as in Apulia. However, it reassures and makes me happy to know that our main operational base, the administrative headquarters, the archive, and the small museum that houses the family's documents, have now been brought together in one place. Here, just a half hour's drive from Florence and from Palazzo Antinori.
A few minutes away from the vineyard of the first wine that I wanted and created as the head of the company. A profoundly Tuscan wine that is also a citizen of the world. The offspring of Chianti Classico that has changed everything.
I am 76 years-old, have been the head of the company for 49 years, and have a surname that has existed for at least seven centuries. Since then, more or less, this surname has been associated with wine, from the Middle Ages to the Milan Expo 2015; it has come a long way. Even today, while the twenty-seventh generation of my family begins working in the vineyards, and while the 2012 vintage is almos ready, resting in the cellar waiting, I would like this to be both the story of a place and a wine that bear the same name. And, I would like it to also somehow be the story of how every great wine is created and aged.