The preface of Paul Bocuse published in Pinchiorri, Two Voices that Become One.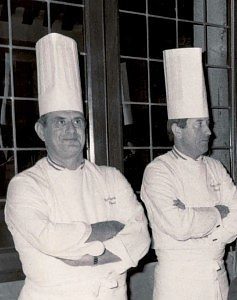 Annie Féolde,
Upon meeting this lady of refined elegance, you could imagine her going out for a cup of tea with crowned heads! Yet, as far as I can recall, I think I met Annie Féolde for the first time at her debut at Enoteca Pinchiorri, during a dinner with Sirio Maccioni along with my friends and Roger Vergé in the presence of the actor Ugo Tognazzi. On that occasion, we participated in the staging of prestigious wines selected by Giorgio Pinchiorri, accompanied by refined dishes prepared by the chef of this new Florentine palazzo.
Many years have passed since then and this Bianca Castafiore of the oven continues to shine.
Paul Bocuse